Error

XML Parsing Error at 2:26. Error 7: mismatched tag
Wednesday, 10 June 2009 15:28


Victor Conte, Former President and Founder of BALCO, Reveals What He Knows about Steroid Use in Sports in an Explosive New Book Coming in 2009

Victor Conte, founder of BALCO (Bay Area Laboratory Co-operative) and the centerpiece of the
New York Times
bestseller
Game of Shadows,
finally tells his side of the "BALCO Affair," the steroids-in-sports scandal that has shocked and captured the attention of the entire world.
Because of his first-hand involvement, Conte can tell it all exactly as it went down, from the illegalities of the original BALCO raid to the truth regarding the involvement of Marion Jones, Barry Bonds, and other elite athletes implicated in the scandal.
This is a one-of-a-kind book that cannot be recreated or impersonated. No one has the complete inside knowledge of BALCO that Victor Conte does, and no one else dares to reveal the truth about the steroids-in- sports investigations, the charges, the behind-the-scenes negotiations, the sentencings, and the dark side of the sports world. Victor Contewas the founder and president of Bay Area Laboratory Co-operative (BALCO), a controversial sports nutrition center in Burlingame, California, which the United States Anti-Doping Agency (USADA) says developed banned steroids. In 2003,
San Francisco Chronicle
reporters Lance Williams and Mark Fainaru-Wada began investigating the company's role in a drug sports scandal later referred to as "the BALCO Affair," and revealed their findings in the 2006 bestseller
Game of Shadows
. BALCO's offices were raided by officials from the U.S. Anti-Doping Agency, the Internal Revenue Service, the Food and Drug Administration, and the San Mateo County narcotics taskforce, and Conte eventually entered guilty pleas in July 2005 to one count of conspiracy to distribute steroids and a second count of laundering a small portion of a check. He was sentenced in October 2005 to serve four months in a minimum security prison and another four in home detention.
Since his release from prison, Conte has worked with the World Anti-Doping Agency (WADA) and other organizations to help seek a solution to the doping epidemic in sports today.
The boss tells all!
Victor Conte, founder and president of BALCO (Bay Area Laboratory Co-operative), and the centerpiece of the New York Times bestseller Game of Shadows, finally tells his side of the "BALCO Affair," the steroids-in-sports scandal that has shocked and captured the attention of the entire world. Because of his first-hand involvement, Conte can tell it all exactly as it went down, from the illegalities of the original BALCO raid to the truth regarding the involvement of Marion Jones, Barry Bonds, Shane Mosley, and the other elite athletes implicated in the scandal. This is a one-of-a-kind book that cannot be recreated or mimicked. No one has the complete inside knowledge of BALCO that Victor Conte does, and no one else dares to reveal the truth about the steroids-in-sports investigations, the charges, the behind-the-scenes negotiations, the sentencings, and the dark side of the sports world.

BALCO is a controversial sports nutrition center in Burlingame, California, which the United States Anti-Doping Agency (USADA) says developed banned steroids. In 2003, San Francisco Chronicle reporters Lance Williams and Mark Fainaru-Wada began investigating the company's role in a drug sports scandal later referred to as "the BALCO Affair," and revealed their findings in the 2006 bestseller Game of Shadows. BALCO's offices were raided by officials from the U.S. Anti-Doping Agency, the Internal Revenue Service, the Food and Drug Administration, and the San Mateo County narcotics taskforce, and Conte eventually entered guilty pleas in July 2005 to one count of conspiracy to distribute steroids and a second count of laundering a small portion of a check. He was sentenced in October 2005 to serve four months in a minimum security prison and another four in home detention. Since his release from prison, Conte has worked with the World Anti-Doping Agency (WADA) and other organizations to help seek a solution to the doping epidemic in sports today.


Related BALCO | Victor Conte News Articles...
Lawyers for Shane Mosley & Victor Conte jump into ring for steroid fight
By Teri Thompson and Nathaniel Vinton
DAILY NEWS SPORTS WRITERS
Thursday, June 4th 2009, 7:46 AM
A New York judge sharply questioned an attorney for welterweight boxing champion "Sugar" Shane Mosley Wednesday about why Mosley didn't want to board a flight with the materials he bought from BALCO founder Victor Conte in the summer of 2003.
Mosley, who is suing Conte for defamation for suggesting the boxer knew perfectly well the materials were performance-enhancing drugs, has insisted he thought he was merely using vitamins. Other athletes, including Marion Jones, made the same contention, but were later found to have been aware they were ingesting steroids.
In the open courtroom of Judge Louis York of the New York State Supreme Court, Conte's attorney called this the "I'm-an-idiot defense" - and York seemed to agree it sounded pretty hard to believe.
"Why couldn't he just get vitamins at his local pharmacy," asked York. "Why couldn't they take them on the plane?"
Because the materials came in "a sizable package," answered Peter Schalk, one of the attorneys representing Mosley. Schalk suggested his client couldn't bring the BALCO products on the flight from Oakland down to Los Angeles because the plane was small. It was just a "puddle jumper," Schalk said.
"So many people send things by FedEx, I don't know why this is an issue," said Schalk.
The exchange came during oral arguments after which York denied a bid by Conte's attorney, Tom Harvey, to dismiss the case. The ruling allows the parties to conduct discovery, after which York has reserved the right to review depositions and decide if he wants to dismiss. York said he didn't know if he had jurisdiction.
"Before I can decide anything I have to decide if I have jurisdiction," said York. "There's a lot of money in this case, and I'm not going to shortchange anyone."
Mosley is currently the WBA welterweight champion and is in talks to meet Philippine superstar Manny Pacquiao later this year. His legal fights will now move forward too, with his attorney promising to depose Conte. Mosley's lawsuit complains of Conte's comments to media outlets including USA Today, SI.com and the Daily News.
"This is one step along the road of securing justice for Shane," said Judd Burstein, another lawyer representing Mosley. "Conte can run, but he cannot hide from me."
Harvey saw Judge York's ruling differently, pointing out he won an order from York that the depositions be allowed to take place in California, to save Conte and others the expenses.
"Judd, who wasn't even there, must be watching a different movie," said Harvey.
Some facts in the case are not in dispute. Mosley and his trainer Daryl Hudson flew to BALCO in the summer of 2003 and collected $1,850-worth of drugs, including the endurance-boosting hormone erythropoietin (EPO) as well as "the Clear" (a steroid) and "the Cream" (a masking agent). Federal investigators discovered "doping calendars" Conte drew up laying out Mosley's regimen in the lead-up to a fight against Oscar De La Hoya. After the meeting, Hudson and Mosley flew home, but shipped the materials they'd purchased.
"Presumably they didn't carry it on the plane because it was drugs," Conte told the Daily News Wednesday. "It was a tiny bubble pack, five inches by nine inches, and inside that was a plastic bag with two little seven-CC vials, one of the Cream and one of the Clear. A needleless syringe, that you would use under your tongue, a half-gram spoon. It was smaller than a book. In addition to that, there were a half dozen bottles of vitamins. They had a gym bag. It would easily have fit."
Mosley's attorneys have battered Conte with a barrage of litigation ever since news broke that Conte had secured a book deal and would write about the doping regimen he gave to Mosley, who testified before the BALCO grand jury that he used Conte's drugs, including injectible EPO. Mosley initially sued Conte more than a year ago in a federal court in California, but withdrew the case and filed in New York.
Harvey said that Mosley was trying to intimidate Conte into silence by running up big legal fees.
"This is where they try to scratch their way into New York," said Harvey. "They don't want to appear before a judge who indicated he wasn't impressed."
Harvey cited a federal judge's ruling in the case of Marion Jones, the disgraced sprinter and BALCO client who also sued Conte on the grounds that she supposedly thought Conte's drugs were legal.
"That is very difficult to believe, that a top-notch athlete... would not be keenly aware of what he or she put in her body," said Judge Kenneth Karas in sentencing Jones to prison.
Another BALCO client, Barry Bonds, is facing perjury charges for saying under oath that he thought some of the products he used were flaxseed oil. After the Mitchell Report named Roger Clemens as a user of steroids and human growth hormone, Clemens said he thought his former trainer Brian McNamee had been injecting him with vitamin B12 and the local painkiller lidocaine.
Victor Conte's SNAC ZMA-5 Recovery & Sleep Enhancement
Conte's motion rejected
ESPN.com news services

JUNE 3, 2009

NEW YORK -- A judge has rejected BALCO founder Victor Conte's motion for summary judgment of boxer "Sugar" Shane Mosley's defamation lawsuit.
Mosley accuses Conte of lying when he repeatedly said the former three-division world champion knowingly took illegal performance-enhancing drugs. Conte's Bay Area Laboratory Co-Operative was at the center of the scandal that enmeshed Barry Bonds and many other athletes.
Mosley lawyer Judd Burstein said Wednesday that Justice Louis York of the New York State Supreme Court rejected Conte's request. A summary judgment would have ended the suit in Conte's favor before the case went to trial.
"There was absolutely no victory today for Shane Mosley in his defamation case against me. Quite the contrary," Conte said in a statement released to ESPN.com. "The New York judge simply asked for depositions to be taken before he throws the knockout punch to the case. Specifically, the judge noted that he is not even sure if he has jurisdiction to rule in the case. The only thing running at this point is Mosley's attorney Judd Burstein's mouth."
Mosley has said he unwittingly used steroids produced by BALCO.
Conte is back with another bitter pill
The rekindled affair between Dwain Chambers and Victor Conte makes it impossible to ignore this pencil-moustachioed chancer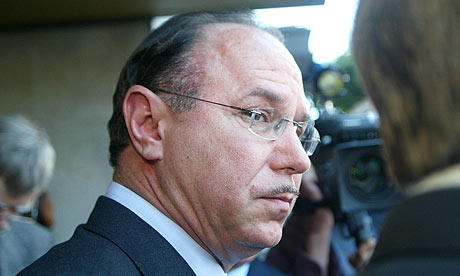 Victor Conte represents the uncomfortable truths about the problem that threatens to destroy the credibility of athletics. Photograph: George Nikitin/AP
A week is a long time in athletics, as Harold Wilson's marginally more ripped brother used to say. But having left for my holidays with the papers full of "Dwain Chambers: I've moved on" headlines, and returned to ones revealing the sprinter was working with Victor Conte, I assumed the plane had passed through some tear in the space-time continuum and it was 2003 again.
As mentioned, I fortunately missed the serialisation of Dwain's book, though am given to understand that in its ability to push the economy off the front pages, to veer between melodrama and low farce, and to provoke demented calls for polygraph tests and private prosecutions, it was fairly typical of most British sporting autobiographies. You'd clearly have needed a cocktail of banned substances to last the distance, and a weary Guardian poll asked if everyone should just get off Dwain's back. 80% of respondents said they should.
We can only speculate how those same supporters reacted when within 48 hours of the poll closing, it was revealed that Dwain had once more teamed up with Balco breakout star Victor Conte. Perhaps it was with the same fond exasperation exhibited by OJ Simpson supporters when the old boy opted to pen a book entitled If I Did It. Perhaps it was with the same imperceptible sigh I imagine the heroic human rights lawyer Clive Stafford Smith gives when yet another shackled client explains they were merely holidaying in Afghanistan. Given that nobody died in the Chambers scenario, however, the reaction of the 80% was probably more akin to that of Pamela Anderson's mother as her daughter wept that her second sex tape had been leaked. Namely: you don't do yourself any favours, do you, love?
Whatever the reasons behind this reunion, Chambers is finally doing his sport a valuable service. He is keeping Victor Conte in the public eye, which is precisely where that tellingly indestructible character belongs until athletics makes considerably more progress in cleaning itself up.
It is never really clear how deeply the IAAF's heart is in this task – I see the sport's governing body will be spending this coming weekend having a meeting to determine whether Chambers's book has brought athletics into disrepute – a debate that rests on the assumption that it has a reputation to defend.
But now Chambers has given Conte, who supplied a slew of athletes with performance-enhancing drugs, a comeback in his ongoing soap opera, it is once again impossible to ignore this pencil-moustachioed chancer in a slightly-too-loud sports jacket, and everything he represents. In Conte are distilled all the uncomfortable truths about the problem that continually threatens to destroy the credibility of athletics. Once a self-styled holistic guru, he exemplifies the continuum between suspiciously fringe ideas about "nutrition" and illegal enhancement. He remains depressingly able to blind athletes with pseudoscience and claims that all sorts of newfangled machines are tomorrow's world. He was a former bass player with no medical or scientific background. And still he beat the system.
The most teeth-grindingly humiliating aspect for the fight against doping was always how amateur Conte's former operation was. Back when the Balco investigation broke, people used to reading of this mysterious facility called the Bay Area Laboratory Co-operative must have imagined imposing premises. In fact, Balco was just one of a parade of small shop fronts in a suburban strip mall. It wasn't quite in good enough repair to be a Kinko's, but is probably now occupied by a fried chicken outlet on first-name terms with environmental health.
And master of all he surveyed was Conte, a braggart for whom the designation "small-time crook" might have been invented. Explaining his loyalty to Conte, Chambers is not wholly prosaic. "It's like in The Matrix when Morpheus meets Neo and offers him the red or blue pill," he says. "The blue pill would make life carry on as normal while the red would answer the questions of the Matrix. Victor never once forced me down this road."
So there you have it: Dwain as the Chosen One and Victor as Laurence Fishburne – although you may judge it is athletics that has been given the bitter pill to swallow. We appear to be in the Conte Reloaded stage at present, and as viewers of that diminishing movie series will know, this one's going to go on. Conte Revolutions? Steel yourself. After all, as Victor says of his new altitude-simulator-cum-nutrition programme: "This is the future."
Dwain's team sent $10,000 to me, says Conte
By RICHARD LEWIS 09th March 2009
Victor Conte, the man who supplied Dwain Chambers with his drugs, told yesterday how he received a $10,000 payment from the management company responsible for the sprinter.
The claims put a different perspective on the row between Chambers and his former manager John Regis, who is threatening to sue Chambers over allegations in his book Race Against Me that Regis was told Chambers was considering taking illegal drugs.
Victor Conte, the founder of the Californian pharmaceutical company Balco
Regis has accused Chambers of telling lies and denied any knowledge of his drug-taking.
Yesterday Conte, in an email statement shown to Sportsmail, said: 'I do recall Dwain telling me in early 2002 that he talked with a member of his management team about the possibility of working with me and that he had revealed some of the specifics of my programme. I was not present during the conversation.
'However, I do know that a wire transfer of more than $10,000 was sent to me thereafter by someone at Dwain's management company. It would seem that a reasonable person would know that a supply of legal nutritional supplements does not usually cost $10,000.'
Regis said last night: 'We did nothing illegal and nothing sinister. We would have many clients and have hundreds of thousands of pounds which they have earned. We used to pay Dwain's credit card bills, his electricity bills and his car payments. We were like a bank. If he asked us to pay someone then we would.
'I'd have to look at the records to see if we sent $10,000 to him but, as with all our clients, money is held in individual accounts for our clients and if they instruct us to send money wherever, we forward the money.
'Our job is to hold that money until our clients tell us where they want it sent. End of story.
'All I can say is, if the money went out, which I can't guarantee, it was done on the basis of Mr Chambers asking us to forward money to Mr Conte.'
Conte, the founder of the Californian pharmaceutical company Balco, was the nutritionist for Chambers, who tested positive for the banned anabolic steroid THG in 2003.
He was suspended for two years in which the work of Balco was revealed. Conte ended up serving four months in jail.
UK Sport are set to investigate the claims made by Chambers in his book, released today.
Victor Conte's long-ago decision to save money imperils case against Barry Bonds
BALCO founder says he sent samples not following strict chain of custody rules to save $50 apiece. Judge in slugger's perjury case says trainer is needed to fill in gaps, but he's refusing to testify.
By Lance Pugmire - February 27, 2009
By saving $150, Victor Conte may have also saved Barry Bonds from prison.
Today in San Francisco, U.S. District Judge Susan Illston has summoned Greg Anderson, Bonds' former personal trainer, to answer whether he will testify in the home run king's perjury trial that starts next week.
Conte, founder of the Bay Area Laboratory Co-Operative that distributed steroids to a slew of elite athletes, was discussing the importance of Friday's pretrial hearing when Conte reflected on the circumstances that made this such a pivotal court appearance.
Last week, Illston indicated she would probably exclude from the trial three positive steroid tests that prosecutors say belong to Bonds unless there is a direct link showing the samples came from the former San Francisco Giants slugger.
Anderson's attorney has already said his client will not testify. Federal prosecutors have told Illston they want to move immediately on a contempt claim if Anderson remains silent and imprison the trainer throughout the trial.
But without Anderson's testimony on the three drug test results, Illston wrote that she would toss out that evidence from trial.
"Under these circumstances, this is not a case in which the chain of custody has a few 'rusty' links," Illston wrote. "Rather, crucial pieces of the chain are missing altogether."
Conte told The Times on Thursday the suspect chain of custody in Bonds' drug samples was the result of a decision Conte made in early 2000 to save money. A representative of Quest Diagnostics informed him that because Conte was submitting dozens of drug testing samples for "research," and not a clinical or forensic reason, he could get a $50-per-sample discount if he agreed to waive chain-of-custody protocol.
"I'm thinking as I'm sending in hundreds of samples, 'Let's do the math,' " Conte said. "Of course I wanted it quick and dirty, no frills."
Conte acknowledged the testing was done to ensure his designer steroids, "the cream" and "the clear," remained undetectable to anti-doping authorities.
Bonds tested positive in 2004 for steroids, according to court records, but he told a federal grand jury in December 2003 he did not knowingly take performance-enhancing drugs. Bonds said he believed he was using flaxseed oil and an arthritic balm. Prosecutors allege that Bonds was lying when he denied using performance-enhancing drugs.
12/24/2008
Victor Conte details drug menu for Sugar Shane Mosley
Victor Conte, operator of BALCO and boxer Sugar Shane Mosley go back and forth about Mosley's PED use before a 2003 title match with Oscar de la Hoya. Conte claims he supplied Mosley with steroids; Mosley sued Conte for defamation. Now Conte defines the Mosley prescription: anabolic steroids and EPO.
Victor Conte
, founder of a supplement company connected to the distribution of performance-enhancing drugs to elite athletes, on Tuesday provided details of the drugs he allegedly gave — and how much money he allegedly charged — boxer Shane Mosley before Mosley's 2003 title fight against Oscar De La Hoya.
Mosley has filed a defamation suit in New York state court against Conte, who operated the Burlingame, Calif.-based Bay Area Laboratory Cooperative (BALCO). The suit claims Conte told newspapers he watched Mosley inject himself with endurance-boosting EPO and that the boxer knew what he was taking.
When a man details the prices of the drug, you suspect he isn't lying. However, receipts or checks would be better.
Mosley's lawyer, Judd Burstein, said Conte's allegations "are completely false" and he is confident the suit will progress to trial. "I'm salivating to get Victor Conte under cross examination," Burstein said.
Among the documents Conte's lawyer, Thomas Harvey, said he filed along with a motion to dismiss Mosley's suit, is an affidavit in which Conte says he charged Mosley $900 for EPO and $600 for the steroids known as "the cream" and "the clear." Conte says he
billed Mosley an additional $150 for blood work and $200 for the limousine Mosley used during his visit to Conte's offices. Conte also says Mosley paid him $500 in cash and, later, $1,350 by personal check.
The World Boxing Council revealed earlier this month it is investigating the doping allegations against Mosley, who won his WBC junior middleweight title fight against De La Hoya by a decision.
And now Conte lays it on the line: he demands reparations.
"I believe it is time for Shane Mosley to receive the consequences he deserves for lying about his use of performance enhancing drugs," Conte said Tuesday in an e-mail. "Other athletes associated with BALCO who have lied about their use of drugs have been banned from their sport, stripped of their records and medals and even spent time in jail."
Victor Conte's SNAC ZMA-5 Recovery & Sleep Enhancement
Victor Conte: 'I cannot believe Marion continues to lie'
12:25 PM, October 29, 2008
During the show that aired today, Oprah Winfrey showed Marion Jones a recording of part of the 2004 ABC "20/20"' interview in which Victor Conte, the BALCO boss, said he watched Jones inject herself with performance-enhancing drugs.Then Oprah asked, "Was he lying?''
Jones' answer: "He was lying.''
Oprah: "Why would he lie?''
Jones: "There are lots of reasons why peoplie lie.... I don't know specifically why he would lie.''
Conte was flabbergasted by what Jones said. This is how he reacted in an e-mail Wednesday:
"I cannot believe Marion Jones continues to lie. Enough is enough. She knowingly used performance enhancing drugs and has already been to prison for lying about it in the first place.
"In April 2001, during the Mt. San Antonio College Relays in Walnut, California. I sat down with Marion Jones in my hotel room at the Embassy Suites in West Covina. I showed her something I had brought with me called a Novopen. It was a cartridge injector pen that contained 45 units of Norditropin growth hormone. The injector contained enough liquid for 10 injections.
"I instructed her how to inject herself with 4.5 units of growth hormone and told her to follow the same protocol three times per week. I taught her to change the needle, dial up the dosage, disperse any air in the chamber, and inject the drug. When she left my room, she took the Novopen with her so she could administer her own injections thereafter.''
-- Philip Hersh
HBO's coverage of Shane Mosley-Victor Conte not a knockout
Saturday, October 4th 2008, 4:45 PM
One of the trademarks of HBO Sports' long-running "World Championship Boxing" series has been its willingness to tackle uncomfortable, awkward and newsworthy subjects even at the risk of igniting a feud with a prizefighter, promoter, or some other business partner.
Last weekend, HBO showcased Mosley fighting Ricardo Mayorga in the main event of a live doubleheader from Carson, Calif. HBO's signature, and highly opinionated "WCB" crew, Jim Lampley, Larry Merchant and Emanuel Steward, turned this event into the Night of the Living Pom-Pom, spending much of the evening marveling over Mosley's skill level and the way he handled Mayorga.
Mosley continues to make news outside the ring, which the HBO voices were not inclined to reveal. Mosley has already filed a defamation lawsuit against Conte in California, withdrew it, and refiled it in New York. Conte was hoping to release a tell-all book, "BALCO: The Straight Dope on Barry Bonds, Marion Jones and What We Can Do To Save Sports," last month.
But a number of factors, including Mosley's legal action, delayed the release. Conte has said that anecdotes proving Mosley used performance-enhancing drugs (Mosley has said he thought BALCO's products were legal), will appear in the book.
No secret that the HBO voices, who have chronicled Mosley's pro career from the beginning, have a deep affinity for the charismatic boxer.
Indeed, after Mayorga was counted out, Merchant, in an apparent state of euphoria, said: "Shane Mosley, I love you."
Steward: "This was his (Mosley's) greatest moment."
Then, in the post-fight interview, Merchant asked Mosley: "Shane, you're 37 years old. You're not supposed to be fighting hard, strong guys like that for 12 rounds. How do you do it?" At that very moment we wondered how many viewers had their own idea what the answer to that question might be.
Victor Conte's SNAC ZMA-5 Recovery & Sleep Enhancement
Victor Conte suspicious of Caribbean sprint success

OLYMPICS

Before writing letter for Dwain Chambers, BALCO founder sounded alarms regarding nations that lack an independent, state-run anti-doping body.
By Lance Pugmire, Los Angeles Times Staff Writer
July 19, 2008
Before writing the letter that British sprinter Dwain Chambers presented to anti-doping authorities about Chambers' deceptive practices, BALCO founder Victor Conte sounded alarms about the Olympic track and field success of Caribbean countries, including sprint power Jamaica.
Conte said that he urged the World Anti-Doping Agency to investigate drug testing and supervision of athletes in Caribbean nations that lack an independent, state-run anti-doping body.
Conte, who served a prison term connected to the scandal that arose at BALCO, said he met in December with then-WADA director Dick Pound and detailed allegations of illicit behavior. He declined to elaborate.
"To see the fastest people in the world coming from one island [Jamaica], I'm highly suspicious," Conte said this week. "I believe there's rampant use of performance-enhancing drugs in the Caribbean."
Pound said Friday he thought Conte's "information was good, and that we should follow up."
But Pound left office two weeks after meeting with Conte and said he did not know if the agency had investigated. Current WADA director David Howman declined to elaborate on how his organization responded to Conte's information via Pound.
Conte complained that elite athletes in the Caribbean countries too often easily avoided out-of-competition drug testing in the fourth quarter of 2007.
Jamaican officials did not immediately respond to voice messages and e-mails from The Times about Conte's call for a probe.
Herb Elliot, a Jamaican member of the IAAF's Medical and Anti-Doping Commission and top enforcement official in the country, told the Christian Science Monitor last month, "We are far in advance of the U.S. record for [preventing] doping. We preach, cajole, and test. . . . Sports is such a part of our culture that the disgrace [of doping] is so great that the Jamaicans that live here wouldn't even consider it."
On Friday, Mike Fennell, president of the Jamaica Olympic Assn., told the Jamaica Observer: "All our top athletes who are continuously performing abroad are tested every time they compete in these big meets abroad . . . so anybody who wants to make comments about our attention to testing, our anti-doping measures are doing that with malicious attempt and are just being bad-minded because we are good. And people don't like when we are good."
Victor Conte BALCO Book Critical of Special Agent Jeff Novitsky
March 31, 2008 at 8:01 pm | Steroid Commentary, Steroids in Sports - Posted by Millard Baker
Victor Conte's autobiographical account of the BALCO steroid scandal will hit bookstores in September 2008 ("BALCO founder Victor Conte has tell-all book ready," March 30).
Slated for publication in September under the Skyhorse imprint, the book's working title is "BALCO: The Straight Dope on Barry Bonds, Marion Jones and What We Can Do To Save Sports." Conte, in conjunction with co-author Nathan Jendrick, promises to share "the dirt, the drugs, the doses, the names, dates and places, and a 'prescription' for a brighter future."
He promises the "complete truth in its honest, unadulterated and raw form" and says he is "ready to tell the world everything."
Most people will be interested in hearing "the dirt" on the various athletes allegedly involved in recent years' doping scandals. But my attention will be on what Conte has to say about IRS Special Agent Jeff Novitsky. As Jeff Novitsky testifies on the stand against cyclist Tammy Thomas in her perjury (doping) trial, Victor Conte is working with co-author Nathan Jendrick to pen a book that is highly critical of Novitsky. Forget about the athletes like Barry Bonds or Marion Jones that have doped; Conte has told me that Novitsky is the biggest cheater in the entire BALCO steroid scandal is Jeff Novitsky. The NY Daily News confirms that Novitsky is a target.
One of Conte's biggest targets is likely to be Jeff Novitzky, the federal agent who sniffed out the BALCO conspiracy in 2003 and has tenaciously chased down every twist in it ever since.
Conte claims Novitzky, who is on the witness stand Monday in the government's prosecution of cyclist Tammy Thomas (the first BALCO athlete to refuse a plea bargain and take her case to trial), fabricated a confession he says Conte gave on the day of the BALCO raid, and lied in court documents.
The more we learn about doping related events like the BALCO scandal and the Floyd Landis doping scandal, the more we realize that we live in a society where "winning at all costs" is the only standard. This not only applies to the "dopers" but particularly to the "anti-dopers." It's all about winning - not about following the rules, pursuing justice, leveling the playing field, right or wrong or integrity in sports. Jeff Novitsky, WADA, USADA, etc. simply want to win and will seemingly use any unfair advantage and break the rules to do so.
Victor Conte's SNAC ZMA-5 Recovery & Sleep Enhancement
BALCO founder Victor Conte has tell-all book ready
BY TERI THOMPSON in New York and NATHANIEL VINTON in San Francisco DAILY NEWS SPORTS WRITERS
Sunday, March 30th 2008, 8:51 PM
BALCO founder Victor Conte is ready to point finger at government, but also at athletes, coaches and reporters, as he prepares tell-all book about steroid scandal for September release.
SAN FRANCISCO - Monday marks the return of Victor Conte, the charismatic founder of the infamous BALCO laboratory, to the position where he has always seemed to feel perfectly comfortable: At the center of attention, pleading his case.
Off criminal probation as of midnight on Sunday, Conte is expected to celebrate his return to freedom with a tell-all book spilling the juice on BALCO athletes and the federal agents who have been prosecuting them now for five years.
Conte, who has remained mostly silent as the government, the media and the athletes involved have examined, analyzed and dissected the most explosive drug case in sports history, says he will now tell his side of the story.
Slated for publication in September under the Skyhorse imprint, the book's working title is "BALCO: The Straight Dope on Barry Bonds, Marion Jones and What We Can Do To Save Sports." Conte, in conjunction with co-author Nathan Jendrick, promises to share "the dirt, the drugs, the doses, the names, dates and places, and a 'prescription' for a brighter future."
He promises the "complete truth in its honest, unadulterated and raw form" and says he is "ready to tell the world everything." While the BALCO athletes, particularly Barry Bonds and Marion Jones, have been in the unwelcome spotlight in recent years, Conte, who enjoys speaking his mind, has been frustrated by being forced to assume an uncharacteristic measure of discretion because of legal jeopardy. (It has also been an expensive battle for Conte. In the case of Jones, who is serving a prison sentence for lying to the government, Conte says he spent upwards of $100,000 to defend a baseless $25 million lawsuit Jones filed against him for saying she used performance-enhancing drugs).
One of Conte's biggest targets is likely to be Jeff Novitzky, the federal agent who sniffed out the BALCO conspiracy in 2003 and has tenaciously chased down every twist in it ever since.
Conte claims Novitzky, who is on the witness stand Monday in the government's prosecution of cyclist Tammy Thomas (the first BALCO athlete to refuse a plea bargain and take her case to trial), fabricated a confession he says Conte gave on the day of the BALCO raid, and lied in court documents.
The 27 athletes Novitzky says Conte confessed to giving drugs to in the September, 2003 raid on BALCO?
"He made the list himself," Conte says.
Novitzky faces cross-examination Monday by Thomas' attorney, who may attack the credibility of the secretive agent and uncover weaknesses that lawyers for Barry Bonds can exploit when Bonds goes to trial next year.
Novitzky was also the subject of an internal investigation by the Treasury Inspector General for Tax Administration (TIGTA) for leaking confidential investigative information about the case and for missing evidence, according to Conte.
"Novitzky and three other IRS special agents hired lawyers and signed proffers before cooperating with the investigation," Conte says. "There were inconsistencies with some of the statements. It was acknowledged in the report that the investigation could cause credibility issues for the agents if the BALCO case ever went to trial."
The investigation was apparently closed after six months.
In July 2005, Conte entered guilty pleas to two criminal counts and accepted a punishment of four months in prison and four months of house arrest. The prison term was also followed by a two-year probation period during which Conte's lawyers advised him to keep quiet about BALCO.
Now, says Conte, he is free to dish up what he calls the lies, the sex-for-drugs exchanges between athletes and coaches, the drug calendars of famous sports figures, the injections given and the pills taken, the hypocrisies of some of the "reformed" athletes, factual errors he says exist in one of the books written about BALCO, and mostly, the government's abuses.
"It's my opinion that Novitzky is to law enforcement, what I was to sport," Conte says. "I helped athletes to use drugs, win medals and break records. I believe Novitzky has helped law enforcement to lie, steal and cheat in order to win cases. In both instances, the real question is whether or not the end has justified the means. It's my opinion that it has not, in either case. What's wrong is wrong and there is no justification for wrongdoing in sport or in law enforcement."
Conte says the book will also deal with what needs to be done to clean up doping in sports.
"It was not long ago when Bug Selig was claiming that baseball didn't have a drug problem. The world certainly knows now that there has been a rampant use of drugs in sport for decades. The anti-doping programs in place are still inept and this contributes to the use or lose mentality of many athletes. I will continue bring attention to the many loopholes that exist in the testing programs. Hopefully, one day athletes will be able to be clean and play on a level playing field at the same time.
"I see that I have the potential to make change - I can do that."
Victor Conte on Marion Jones' 'Poor Choices'
Former BALCO Chief Reacts to Jones' Sentencing in Doping Scandal
ABC NEWS Jan. 11, 2008
Earlier today in federal court, track star Marion Jones was sentenced to six months in prison, two years of supervised release and 800 hours of community service.
In October, Jones pleaded guilty to charges of lying to federal investigators in 2003 about using steroids. She was stripped of the five medals she earned at the 2000 Sydney Olympics.
In 2004, "Nightline" co-anchor Martin Bashir sat down for an exclusive "20/20" interview with Victor Conte, former chief of California-based Bay Area Laboratory Co-Operative, which was facing federal charges for distributing steroids and other illegal performance-enhancing drugs to athletes.
Conte gave the following statement to ABC News today about Jones' sentencing:
"I feel very sad for Marion and her family. Marion did make some very poor choices and she does deserve serious consequences. I certainly don't condone her repeated lies. But I do feel especially bad for Marion's mother and her two children. They didn't lie or cheat or use performance enhancing drugs, yet they are also enduring great pain. I've also made some very poor decisions that caused similar torment for me as well as my family. It's been difficult, but I'm working to earn the forgiveness of others. There is a saying in prison that inmates don't do the time, their families do. Looking into a family member's eyes and seeing the hurt you have caused is the most painful consequence. Marion was one of the most celebrated athletes in Olympic history and her mistakes have caused her to be stripped of everything she worked so very hard to achieve. There is no doubt in my mind that she has learned gigantic lessons. Hopefully, she will be able to serve as an example and help others to make good decisions. Marion is not a bad person. She is simply someone who made some bad decisions. Nonetheless, I'm optimistic that she, too, will someday find a way to be forgiven."
In 2004, Conte told Bashir that he supplied performance enhancing drugs to Jones. "20/20" also obtained calendars that Conte said showed how and when Jones used the drugs. Jones denied the allegations at the time and filed a $25 million defamation suit against Conte about the statements he made to Bashir. The lawsuit was later settled on undisclosed terms. In 2005, Conte pleaded guilty to charges of conspiracy and money laundering.
Below is the original report from Bashir's 2004 interview, which aired on "20/20" on Dec. 3, 2004.
Victor Conte, a man at the center of an anti-doping scandal that has rocked the top tiers of the sports world, tells "20/20" he tailored illegal drug regimens for top athletes, including Olympic track stars Marion Jones, Kelli White and Tim Montgomery.
The use of performance-enhancing drugs among professional and Olympic athletes is rampant, according to Conte, and getting around the anti-doping rules is "like taking candy from a baby," he says in an exclusive interview with "20/20" correspondent Martin Bashir.
"In short, the Olympic Games are a fraud," Conte says.
Alleges Drug Use by 'World's Fastest Woman'
Conte, founder of the California-based Bay Area Laboratory Co-Operative, which is facing federal charges for distributing steroids and other illegal performance-enhancing drugs to athletes, says he supplied Jones with a variety of illegal drugs from August 2000 through September 2001. He claims to have supplied her with a substance called "the clear," EPO, human growth hormone, and insulin. (The clear is thought to be the anabolic steroid tetrahydrogestrinone, or THG. EPO, an acronym for erythropoietin, is a red blood cell-boosting hormone experts say can increase endurance by 10 percent to 15 percent.)
"After I instructed her how to do it and dialed it up, she did the injection with me sitting right there next to her, right in front of me," Conte says. "Marion didn't like to inject in the stomach area. ... She would do it in her quad. The front part of her leg," he tells "20/20."
Jones, described as the fastest woman on Earth, won five Olympic medals at the 2000 Olympic Games in Sydney, Australia. Rumors of performance-enhancing drug use have dogged her, but she has never failed a drug test and maintains she has never used illegal drugs.
Conte says there simply aren't accurate drug tests to detect the substances he claims Jones used. "As I told you earlier ... it's like taking candy from a baby," Conte tells "20/20."
Jones declined to be interviewed for this story. In a written statement to ABC, her lawyers insisted Jones "has never, ever used performance-enhancing drugs" and that she "passed a lie detector examination." They also said, "Victor Conte is simply not credible."
In a statement released today, Jones said, "Victor Conte's allegations about me are not true, and the truth will come out in the appropriate forum. I have instructed my lawyers to vigorously explore a defamation lawsuit against Victor Conte."
"I have no bone to pick with Marion," Conte tells "20/20's" Bashir. "I'm here today because I believe that the world needs to hear the truth, the whole truth and nothing but the truth, so that we can really attempt collectively to try to genuinely create a level playing field for the athletes of the future.
"It's almost like what I'm here to tell you right now is that not only is there no Santa Claus, but there's no Easter Bunny or Tooth Fairy either, in the world of sport ... I mean the whole history of the Olympic Games is just full of corruption, cover-up, performance-enhancing drug use -- it's not what the world thinks it is," Conte says.
Conte asserts the use of performance-enhancing drugs is essential to level the playing field. "It's not cheating if everybody is doing it. And if you've got the knowledge that that's what everyone is doing, and those are the real rules of the game, then you're not cheating," he tells Bashir in the "20/20" interview.
Also on "20/20," Kelli White, the track and field star who tested positive for steroids, talks for the first time about what happened after she approached Conte.
"He made me believe that if I followed a certain protocol of supplements and different drugs that I could become number one in the world," she tells "20/20."
She says she saw a difference within a week or two of beginning the Conte-prescribed regimen. "I saw myself on TV and I was kind of unhappy about that. I was huge, very big, very muscular -- none of my clothes fit. And so it was, it was difficult. I knew that looking that way would get a lot of whispers," she said.
But White says she didn't feel she was doing anything unethical when she began taking the drugs. "I felt that there [were] so many people doing it that I would just be like one of the others."
Eventually, White says, she began to have some concerns about taking the drugs. "The acne thing was bad. The shoulders, the face, my voice changed ... I had a period every other week ... It got to be so easy that I was actually disappointed. And it -- the guilt -- was too much then."
Conte says the regimen he and his partners created for White was extraordinarily effective. "I do believe that the program that we developed [for White] was the most sophisticated in the history of the planet Earth."
Mastermind of a 'Collective Dream'
Conte, 53, had an earlier career in music, playing bass with the popular funk band Tower of Power in the late 1970s. In the mid-1980s, Conte bought into the booming sports nutrition market, setting up the now notorious BALCO near San Francisco.
His early work with athlete was completely legal -- and lucrative. He made millions of dollars assessing the nutritional deficiencies of professional athletes and body builders and selling them supplements.
But after learning from Olympic shot-putter Greg Tafralis that supplements coupled with steroids would allow athletes to train harder, build muscle faster, and recover more quickly, Conte added more than nutritional supplements to some of his clients' regimens.
Five years ago, Conte says, a chemist sent him a vial of what has become the holy grail of sports doping -- a steroid called "the clear," because there were no drugs tests that could detect its presence. Conte began giving it to some of his clients.
Conte says he was driven to create these drug regimes for athletes not by money but because of "the challenge." He says he developed a secret plan to use drugs to help track and field star Tim Montgomery break the world record for the 100 meters, which Montgomery did in 2002, nearly a year after he allegedly stopped working with Conte.
"I knew that this was the most coveted of all records ... and gold medals. So we kind of had a collective dream, and I was the mastermind so to speak," Conte said.
Still, Conte tells Bashir he believes Montgomery's world record is legitimate. "When you say legitimate, I believe if it was achieved using the exact same playing field as the previous record, and the previous record, and the previous record, then it is legitimate because you're competing with the same terms and conditions ... I mean, otherwise you'd have to wipe out all the world records."
A lawyer for Montgomery declined to comment on the allegations.
Rampant Drug Use in Pro Sports
Drug use is also widespread in professional baseball and football, according to Conte.
His first National Football League client, he says, was Bill Romanowski of the Oakland Raiders. "Bill pretty much does whatever he chooses to do so. Did I help Bill in certain ways? Yes. Did Bill do many other things in addition to what I would recommend? Yes," Conte tells Bashir.
Conte also says he gave steroids to three of Romanowski's teammates -- Barrett Robbins, Chris Cooper and Dana Stubblefield. All three were fined for drug use.
But Conte claims professional baseball is saddled with the most widespread drug problems.
Drugs from Conte's BALCO lab made their way to some of baseball's biggest stars. Former American League MVP Jason Giambi admitted to a federal grand jury that he took steroids and human growth hormone in 2003, according to transcripts of testimony obtained by the San Francisco Chronicle and published in the newspaper's Thursday editions.
Giambi reportedly told the grand jury he used steroids obtained from Greg Anderson, the personal trainer for San Francisco Giants star Barry Bonds. Greg Anderson, who has pleaded not guilty in the BALCO case to federal charges for supplying steroids, has denied giving illegal drugs to Bonds.
According to today's San Francisco Chronicle, which also obtained transcripts of testimony by Bonds to the federal grand jury, the baseball player admitted to using "the cream" and "the clear" in the 2003 season that were supplied by Anderson. Bonds reportedly said Anderson told him he was using the nutritional supplement flaxseed oil and a rubbing balm for arthritis.
Conte tells "20/20" he gave Anderson the performance-enhancing drugs "clear" and "cream," but not for any athlete's use. "This was not for any specific athlete," Conte says, "but mainly for Greg for his own personal use or whatever he did with it."
Conte says he doesn't know whether Anderson gave those drugs to any athletes. He tells Bashir, "I have no specific knowledge of this. I didn't say 'Here's clear. Go give this to Gary,' or 'Here's clear. Go give this to Barry.' "
Conte says he believes Major League Baseball officials are not adequately addressing the problem of drug use. "I think they still believe there's a Santa Claus ... They're not in contact with reality. I mean the program that they put together is a joke," he said.
"Let me tell you the biggest joke of all, I would guesstimate that more than 50 percent of the athletes are taking some form of anabolic steroids," Conte tells Bashir.
He adds, "My guess is more than 80 percent are taking some sort of a stimulant before each and every game."
In response to the implication of MLB players in the doping scandal, baseball commissioner Bud Selig said, "I am fully committed to the goal of immediately ridding our great game of illegal performance-enhancing substances. The use of these substances continues to raise issues regarding the game's integrity and raises serious concerns about the health and well-being of our players." Selig said he hoped the players association would join him "in adopting a new, stronger drug-testing policy modeled after our minor league program that will once and for all rid the game of the scourge of illegal drugs."
Victor Conte's SNAC ZMA-5 Recovery & Sleep Enhancement
Victor Conte, BALCO and Contextual Ads
January 1, 2008 at 6:43 pm | Steroids in Sports - Posted by Millard Baker
If anyone thinks that the federal government, the anti-doping authorities, and the media have made an example out of the person who many consider to be architect of the largest anabolic steroid scandal in sports history, think again.
Victor Conte (owner of BALCO) bought a new silver Bentley Continental GT this year, his SNAC business is bringing in $300,000 a month, and some of his best customers are still major league baseball players.
I've recently discussed the role of the media and particularly the contextual internet ads from Google as having a big role in his success. Victor Conte attests to the power of contextual ads in the July 2007 issue of Muscular Development magazine:
It's just incredible the attention BALCO is still getting. You can't believe who calls me for interviews almost every day. And I'm making the most of it! Not only can I pick who interview me, but I have a marketing program where I can tap into keyword searches so that anytime anytime someone Googles 'Barry Bonds,' or 'BALCO,' or 'baseball,' or Jason Giambi or Marion Jones - or a ton of other keywords related to BALCO - an ad for SNAC pops up right next to the article…
Scientific Nutrition for Advanced Conditioning (SNAC) sales have increased 20% from 2006; Conte expects sales to improve even more in 2008.
Now that the worst of the consequences for my actions are behind me, I can openly say that the enormous publicity BALCO has received is great for my business… ZMA sales are stronger than ever. In fact, my entire SNAC System nutritional product line is doing better than ever before. I can't even imagine what someone would have to pay for the type of international exposure my products have received…
Conte also acknowledges the role of the media in his success; no doubt the display of contextual ads featuring SNAC on CNN.com, NYTimes.com and USAToday.com contributed.
Of course, I would like to thank the media! They have basically turned BALCO into a household name. I now realize that I would never have received the international publicity without all of the adversity, pain and suffering that came with it…
Movie About the BALCO Steroid Scandal
November 30, 2007 at 2:01 am | Steroid Commentary, Steroid History, Steroids and Baseball, Steroids in Sports - Posted by Millard Baker
HBO Films is planning to make a movie about Barry Bonds and all the characters involved in the BALCO steroid scandal. They recently purchased the rights to the book "Game of Shadows" written by the investigative reporters Mark Fainaru-Wada and Lance Williams of the San Francisco Chronicle.
Hollywood is already promoting this as a "Barry Bonds" movie. I think everyone will be overloaded with stories about Bonds, if not already, by the time the movie is released on HBO. How many people will really want to see a movie about Barry Bonds?
Game of Shadows is well-written and interesting book that is about much more than Barry Bonds. I hope that director Ron Shelton is able to breathe life into movie adaption with an engaging depiction of the BALCO steroid scandal. I am hopeful as he has had some notable success with sports films:
Shelton's sports-film directing credits include "Bull Durham," the Ty Cobb feature "Cobb," "Tin Cup" and "White Men Can't Jump."
Most are curious who will play the role of "Barry Bonds." But I want to see who will star as "Patrick Arnold" and "Victor Conte." It will be a lot of fun to see actors portraying people that I have known during my time in the "bodybuilding industry!" Of course, these guys were not really major steroid distributors; they just happened to be associated with some prominent athletes thereby making it a huge scandal. Their short-term prison stints more than likely served to guarantee their future success in the bodybuilding/supplement industry.
I feel the steroid hysteria of the past several years has done more harm than good by transforming a woefully ignorant public into a largely misinformed public when it comes to the topic of anabolic steroids. But at least, all the attention given to steroids in the media has made it possible for A-list writers and producers to document the history of steroids in society and sport (e.g. Game of Shadows and Steroid Nation).
Victor Conte's SNAC ZMA-5 Recovery & Sleep Enhancement
BALCO Founder Victor Conte Back at His Lab
by Tom Goldman - NPR
All Things Considered, June 21, 2007 · From the outside, it's not "BALCO" anymore. Victor Conte took down the signs that read, "Bay Area Laboratory Cooperative." Too many tourists were stopping by, doing muscle poses and snapping photos. Too many TV reporters were doing standups.
But inside the nondescript building near the San Francisco airport, BALCO lives.
BALCO is the California lab at the center of the sports doping scandal in which several of pro sports' biggest names have been implicated, including New York Yankees star Jason Giambi and San Francisco Giants slugger Barry Bonds.
Conte, who founded BALCO, served four months in prison and four months of home confinement for illegally distributing anabolic steroids. His sentence ended last July. Now he's back in the nutritional supplement business — a legal business which he began in 1984.
Hall of Fame ... Or Shame?
Entering the lobby of the BALCO building, Conte says, "Welcome to the BALCO Hall of Fame — or shame — depending on your viewpoint."
Conte is wearing dark cargo pants and a loose-fitting red shirt. His thinning hair is slicked back, his moustache is pencil thin. If Conte thinks this is a hall of shame, he doesn't let on, as he proudly points out his autographed photos of some of the world's top athletes.
"Barry Bonds, Ronnie Coleman ... eight-time body-building champion," Conte says. "This is the ZMA track team with Kelli White and Dwayne Chambers, and Christie Gaines."
White, Chambers and Gaines were sanctioned for using banned drugs. Others in this tour of signed photos and jerseys also were busted with substances provided by Conte. They included human growth hormone, the oxygen-boosting drug EPO, and a previously undetectable steroid, THG, known as "The Clear."
The short walk through the lobby and down a narrow hallway leaves a visitor wondering how Conte can seem so upbeat about this array of athletes who cheated. Perhaps anticipating this, Conte turns into a conference room, where — on display, stacked in a pyramid — there are about 25 bottles of ZMA. The nutritional supplement was the backbone of his business long before he went down the slippery slope of banned drugs, as he puts it. And now, after prison, the stack of ZMA seems to offer visible proof that Conte is back — and legal.
"I will never, ever do anything involving illegal performance-enhancing substances again," he says. "And the simple reason is, I would never subject my family members to what they went through again. I'm telling you, that is a past life for me."
Giving banned drugs to athletes may be in the past, but talking about drugs? Anytime, anywhere. Conte doesn't condone the use of banned substances.
"It is what it is," Conte says. At his minimum-security prison in California, he led a steroid debate in which he defended the athletes who dope. Now, back in his office, he does the same thing.
"There needs to be a change in where the spotlight is," he says. "And it needs to be put upon the Olympic governing body officials, the owners of the teams, and the players' union executives ... who've had full knowledge of the rampant use of performance-enhancing drugs for 50 years."
The Face of the Doping Scandal
This is the world of Victor Conte. He leans forward, a vein in his neck bulging at times, and he says that his case was part of a propaganda campaign. Anti-doping authorities, the government, the media, Conte says, inflated his wrongdoing as a way to divert attention from the deeper problems of doping.
"I'm the Adolf Hitler of sport — someone attempting to create a new race of athletes," he says. "Painting a picture like I'm going to prison for 30 years."
BALCO was a very big deal to the government, and Conte was the face of the scandal. Announcing the indictments of Conte and three other men back in 2004, then-U.S. Attorney General John Ashcroft said, "The tragedy of so-called performance-enhancing drugs is that they foster the lie that excellence can be bought, rather than earned."
The BALCO scandal set off a grand jury investigation that took testimony from some of the world's most famous athletes. And BALCO educated this country about doping.
But after all the focus on Conte, his part of the story ended with a whimper. He calls his four-month prison sentence "the wrist slap heard 'round the world." The 30-foot shark everyone was chasing, he says, ended up being a two-inch minnow.
Conte likes to gloat about that resolution. And it fuels his anger about what he says were serious improprieties by law-enforcement officials and the media involved in his case. He says they lied, they leaked wrong information and were just as guilty of wrongdoing as the athletes and BALCO officials, like himself, caught up in doping.
The Bonds Question
The most famous athlete alleged to have been involved in the scandal is, of course, Barry Bonds. Asked whether Bonds has ever taken banned performance-enhancing drugs, Conte replies, "I have no knowledge of this. None."
If Conte is the 30-foot shark in the BALCO case, then Bonds is the great whale. A grand jury is investigating whether Bonds lied when he allegedly said under oath several years ago that he didn't knowingly take banned steroids. In a previous magazine interview, Conte said he gave drugs to Bonds' longtime trainer, Greg Anderson. But he said he didn't know what Anderson did with them. Anderson is currently in jail for refusing to testify about Bonds.
"Should there be some suspicion?" Conte asks. "Absolutely. Can I say, you know, that Barry Bonds did not use drugs? I can't say that, because I don't know that."
Conte says he provided Bonds with a complex nutritional program, and that Bonds worked extremely hard in the gym. When asked whether he is once again working with Bonds, Conte says, "There have been people that come by to pick up boxes of supplement for a designated baseball player. And we'll just leave it at that."
Conte calls himself one of the smaller players in the sport nutrition industry. But he's still never far from a stage. It was true years ago when he was a professional musician, playing bass for the Tower of Power and Herbie Hancock. It was true when he helped fuel the world's best athletes — legally. And it's true now.
A recent newspaper article on Conte's life after prison ended with the line, "So long, Victor Conte. Your 15 minutes are up."
He laughs at the mention of that, and says his fame, or infamy, has now stretched to four years. Considering that he wants to help sort out where we go from here on the doping issue, Conte may yet squeeze even more out of those 15 minutes.
Though BALCO's gone, Conte's still going strong.
Article from: San Jose Mercury News (San Jose, CA) Article date: April 23, 2007
Byline: Elliott Almond
SAN JOSE, Calif. _ "Come look inside," Victor Conte Jr. urges while gesturing toward his new silver Bentley shimmering in the springtime sun.
When the architect of sport's worst drug scandal is determined, it's almost futile to resist him.
"Go ahead. Stick your head in."
The $170,000 luxury car is one indication of how much has changed for Conte in the year since his release from a federal work camp for his role in masterminding the BALCO Laboratories steroids scandal. The flash has ...
Victor Conte's SNAC ZMA-5 Recovery & Sleep Enhancement
Balco revisited: before federal investigators brought Victor Conte to court, Conte brought Marion Jones to FLEX
November, 2005 by Jim Schmaltz
Former baseball superstar Mark McGwire's journey through the peculiar American celebrity purification ritual has not yet begun. But if it does, this is how it will work. First, he'll bare his soul to a sad-eyed Diane Sawyer, head cocked with her death mask of empathy. Then, he'll take his medicine from a glowering Dr. Phil, who will tell him that he let himself and his loved ones down. Suitably humiliated, McGwire will top it off by poking fun at himself on The Tonight Show with Jay Leno as the host brays along. One wonders if enduring this kind of public atonement will be enough to spare him the ignominy of watching his name scrubbed off monuments, his records spackled with asterisks.
This familiar shoving of a hero off his pedestal is almost a spectator sport in itself these days. McGwire's fall from grace began on March 17, 2005, during congressional hearings into the use of steroids in baseball, when he made a critical decision not to deny having used steroids. Nor would he implicate his peers as having engaged in any illegalities. McGwire's carefully parsed testimony of the "neither confirm nor deny" variety was a close facsimile to similar slippery evasions congressmen have heard for years from civilians and government apparatchiks avoiding a direct answer. It's the unindicted man's version of taking the Fifth. For that, he has paid a steep price.
The active and retired players who joined McGwire at the hearings were much more emphatic in their responses. Jose Canseco, wriggling uncomfortably in the skin of a pariah, repeated accusations from his tabloid treacle of a book, insisting that Major League Baseball players indeed used anabolic steroids. Others appearing before the committee gave similarly memorable performances.
Language-challenged Sammy Sosa, bulging out of his brown suit like an overdeveloped Chico Esquela, denied steroid use, or else his lawyer denied steroid use, it was difficult to tell. Viagra pitchman Rafael Palmeiro, his face red with anger, executed a perfect Clintonesque point-and-glare denial. (And like the former president, Palmeiro would be betrayed by his own bodily fluids, his version of the stain on Monica's blue dress being a positive drug test for stanozolol that was revealed in early August.) Pitcher Curt Schilling, immensely talented but prone to preposterous opinions--a problem compounded by his inability to resist the seductive powers of a reporter's microphone--blamed supplement advertising for baseball's drug problem.
In the end, this collection of baseball stars of vastly disparate personalities didn't really need to testify at all. They weren't there to shed light on the subject of performance-enhancing substances in sport. No, these exceptional athletes were subpoenaed to be lectured, to be stage props for the righteous indignation of members of the 109th Congress, a group of public officials who had just recently tried to gut their own ethics committee. It was like a Washington, D.C., version of Revenge of the Nerds: the smart kids finally get to upbraid the popular jocks.
Hours after watching the hearings commence, I received a phone call as I relaxed in a hotel room in San Francisco. It was Victor Conte. As the former proprietor of the Bay Area Laboratory Co-Operative (BALCO), Conte had been indicted along with three other men on a variety of charges, most famously that he had supplied anabolic steroids to professional and world-class athletes. The federal grand jury investigation had subpoenaed such superstars as Barry Bonds, Marion Jones, Jason Giambi and then 100-meter world-record holder Tim Montgomery. Indicted but indestructible, Conte wanted to have a drink. It was Saint Patrick's Day, after all.
We found a suitable tavern in downtown San Francisco and discussed the congressional hearings. It's hard to imagine that these hearings would have convened if not for the BALCO case. While the conversation was off the record, it's safe to say that there was a lot of eye-rolling and head-shaking over the day's waste of tax dollars.
At one point, a young stumbling reveler in the bar walked up to Conte and pointed at him, asking, "Are you the BALCO guy?" Conte just nodded in answer. It was difficult to tell in the dark bar's shadows if he welcomed the recognition.
WELCOME TO REEFER MADNESS, STEROID DIVISION | With his pencil-thin mustache and boyish grin, Conte doesn't seem like the fearsome Pablo Escobar of steroids that many in the media have cast him. His three codefendants--collectively known as the BALCO Four--are even less criminally imposing. Conte's BALCO business partner Jim Valente is a soft-spoken professional and family man. The other two members of the quartet include track coach Remi Korchemny and personal trainer Greg Anderson. Not exactly the Medellin cartel.
You wouldn't know it by the vigor the U.S. Justice Department exerted in prosecuting the case. It became one of those endless exercises in jurisprudent minutiae--numerous motions, claims of improperly seized evidence, celebrity witnesses, leaked grand jury testimony, lawyer firing, lawyer hiring, rumormongering--the whole turgid swamp of a sprawling federal investigation out of control.

Then suddenly on July 15, weeks before the BALCO case was set to go to trial, a plea deal was announced. Pending approval from U.S. District Judge Susan Illston, Conte will receive four months in a minimum-security prison, followed by four months house arrest. Anderson would receive a sentence of six months or less in a minimum-security facility. Valente would face a long probation. Korchemny was still working on hammering out a deal, but he'll likely face the least of the court's punishments.
The case that began with then Attorney General John Ashcroft--announcing the arrests like a triumphant Eliot Ness--ended with a red-faced Justice Department backing away like Barney Fife disarmed of his single bullet.

That could be one reason for the parading of superstars into the grand jury as if it were a version of the ESPY awards. The prosecution seemed intent on bullying star athletes into spilling their guts about doping, ensuring that the public got full view of their sports heroes glumly entering and exiting courtrooms in a humbling walk of shame. Any connection with BALCO diminished accomplishments and tainted careers. They didn't have to be charged with crimes, although smirking ESPN anchors and comically self-righteous sports columnists were eager to drop the guillotine blade.
Above all, Barry Bonds and Marion Jones have attracted the most attention--and have paid the biggest price. Investigators claimed that Conte blurted out an all-star lineup of superstars he juiced, but he strongly denies this, and no evidence that he named names--with Jones the Jone exception--has surfaced.
As the case unfolded, Conte was intent on staying in front of the grand jury leaks surfacing in the press, particularly the San Francisco Chronicle. Conte even sat down with noted British interviewer Martin Bashir to say his piece. The result was an episode of 20/20 on ABC that aired on December 3, 2004, where Conte claimed that track star Marion Jones had used performance-enhancing substances.
Bashir is like a shaman of some bizarre celebrity scandal power center. It was his infamous sit-down with Michael Jackson that triggered a chain of events that led to the recent trial circus, now mercifully ended. After Bashir's interview with Conte aired, Jones filed suit against the BALCO chief for defamation. The suit is still pending.
MARION FLEXES | Conte's assertions that Jones used anabolic steroids and growth hormone were repeated in an ESPN the Magazine article in which he collaborated. Although her denials have been consistent and vehement--she even passed a lie detector test--Conte clearly had an exalted position in her camp.
When the case broke and Jones' name was associated with BALCO, the track star at first claimed to have little association with Conte. FLEX readers know better. In the September 2001 issue, Jones is featured in an exclusive piece highlighting her connection to the world of bodybuilding.
As part of the FLEX team (yours truly was, at the time, FLEX's senior editor), I traveled to the campus of North Carolina State in Raleigh to interview Jones, who was training under the tutelage of her then husband C.J. Hunter, a hulking cerebral shot-putter who had schooled the young athlete since she was a little-known basketball player at North Carolina.
Also at the interview/photo shoot was Milos Sarcev, a veteran pro bodybuilder who often consulted with Conte to develop training programs for clients. One of those clients was present for the occasion: a little-known sprinter named Tim Montgomery.
Conte pitched the story, chose the time in accordance with Jones and invited me for an exclusive in early May 2001. At the time, Jones spoke glowingly of Conte and his sports supplements, and she expressed admiration for the efforts that bodybuilders put in their training and nutritional regimens, even suggesting that bodybuilding should qualify as an Olympic event.
Conte admitted to one count of illegally dispensing anabolic steroids and one count of money laundering. To those keeping score, that's 40 out of 42 charges dropped by the prosecution in the deal--an anemic batting average by any measure.
More important to Conte is that he doesn't have to cooperate with authorities or aid in any further investigations related to the charges. Although he has offered to help sports authorities illuminate the underground doping world, Conte was always determined not to divulge critical secrets to authorities and endanger the freedom of other potential suspects in the criminal case.
If Judge Illston approves the settlement at a hearing scheduled for October 18, that will effectively end the criminal portion of the BALCO case. Conte, however, is just getting warmed up.
A DOUBLE BICEPS, NOT A CONFESSION | While the other three of the BALCO Four favor tight lips and crisp strolls from courthouse to car, Conte absorbs the spotlight with a mixture of defiance and aplomb. He's embraced the spectacle, figuring a spirited offense is the best defense. An emblematic Conte moment in the case is a photo of him on the stairs of a federal courthouse, tailored in a black suit, hitting a double-biceps pose under a huge grin.
The moment was part theater, part commentary. Mocking the prosecutors' zeal from the outset, Conte bristled at the tremendous resources leveled against him, which he felt were disproportionate to the charges. Twice his home was raided with the noisy clacking of helicopters hovering overhead, as several SUVs full of narco cops invaded his quiet suburban neighborhood, finding no drugs but only a startled household.
Considering the case's outcome, it's hard to argue with Conte's push back. One suspects that the federal investigators thought they had reeled in the big one, collared a mastermind, brought a grand conspiracy to heel. After raids that resulted in upturned bedding, disheveled files and confiscated hard drives, the feds compiled a 42-count anthology of charges that ranged from conspiracy to distribute anabolic steroids to money laundering. Despite the intimidating numerical tally, legal experts said that the maximum penalty for all drug charges was meager. Certainly not enough to grind the accused into turning over on others.

It is a sad irony that Jones' graciousness toward FLEX placed her in a context she is now desperate to disown. At the time, it seemed her willingness to sit down with FLEX appeared to be driven solely by her and Hunter's allegiance to Conte. It was the BALCO chief who very publicly had come to Hunter's defense when, a few months prior to the 2000 Summer Olympics in Sydney, Australia, the shot-putter tested positive for nandrolone, a banned steroid.
At the time, Hunter's claims--shared by other athletes and backed by clinical tests performed at labs sanctioned by the International Olympic Committee (IOC)--that the positive results were from tainted nutritional supplements were met with snarky dismissals by incredulous IOC officials. Five years later, the possibility that Hunter's test was indeed the result of tainted supplements appears much more credible.
Investigations and lawsuits have supported the contention that some nonhormonal dietary supplements had been put through the same manufacturing machinery as prohormones, thus absorbing enough trace amounts of a nandrolonelike chemical structure to trigger a positive test result. An athlete in one such case successfully sued one manufacturer.
Jones has a history of headstrong independence that some contemporaries admire and others consider reckless. Since she was connected to the BALCO case, she's been shunned by some track-and-field organizers and threatened with suspension and even revocation of her Olympic medals. All along, she has furiously denied taking any performance-enhancing agents. Her aggressive public-relations campaign has kept her in the races, but in the last couple of years, she's shown little of the world-beating form that brought her three gold and two bronze medals at the Sydney Olympics.
When Jones and Hunter separated, Jones began dating Montgomery. They had a child together--Tim Jr.--in 2003. Like Jones, Montgomery has struggled on the track since the BALCO revelations, finally watching his world record in the 100 meters fall to Asafa Powell on June 14, 2005. Montgomery awaits his fate after testifying earlier in the summer, but his image is irreparably harmed.
PROJECT WORLD RECORD | Montgomery, a painfully thin raw talent from South Carolina, was the beneficiary of Conte's ambitious Project World Record. In 2001, Conte had assembled a dream team of nutritional and training masterminds who would make the midlevel sprinter into the fastest runner in the world. The team included Charlie Francis, former coach to disgraced Olympic runner Ben Johnson, yet still sought out by track-and-field athletes. Also part of the crew was Sarcev, who oversaw the sprinter's weight training.
Conte put Montgomery on a strict nutritional regimen, the contents of which is of great interest to every track-and-field organization in the world. Whether Montgomery was Eliza Doolittle or the Frankenstein monster, it worked. He became the fastest man in the world, breaking the world record on September 14, 2002.

What exactly helped Montgomery add almost 20 pounds of muscle was one of the subjects of his grand jury investigation and of great interest to the IOC, the World Anti-Doping Agency and U.S. Track and Field. In fact, the United States Anti-Doping Agency is seeking a lifetime ban for Montgomery.
Conte's success led to relationships with other world-class athletes, including British superstar Dwain Chambers, another FLEX alum of sorts. Conte gamely recruited Chambers for a race against Kevin Levrone, after the bodybuilding star claimed he could outsprint any other man in the world in an October 2002 Hard Times piece. After reading the boast, Conte pitched the battle between Chambers and Levrone, which took place on December 11, 2002. Chambers won easily.
It was classic Conte, generating theater as a way to promote his athletes and products. A former bass player with '70s jazz-funk heroes Tower of Power, Conte's protean energies had taken him from touring with one of the most musically accomplished bands of his day to slipping on a white lab coat after purchasing a small amount of equipment in San Francisco. In one of the more ironic twists of his journey of self-invention, Conte, the accused drugpin, says he never used recreational drugs while with Tower of Power. Being in a band in the '70s and not doing drugs is a little bit like living in the Playboy mansion and not having sex. But it's less a measure of Conte's self-denial and restraint than his psychological intensity. The guy is focused. And when he set his sights on nutritional counseling for athletes, it was bound to lead somewhere noteworthy--or notorious. Conte is the type of driven individual who would rather be fated for infamy than mediocrity any day, no matter what the costs. His flagship supplement, ZMA, is now an accepted and popular nutritional aid for athletes and nonathletes, and it can be purchased by itself or as an ingredient in other sports supplements.
A novel formulation containing zinc, magnesium aspartate and vitamin [B.sub.6], ZMA was the direct result of Conte's work with athletes, whose blood he analyzed for nutrient deficiencies. Working with top bodybuilders in the late 1990s, the self-taught chemist discovered that many athletes had deficiencies in key minerals. ZMA was formulated to correct the most common of these deficiencies.
It was the positive testimony of the pro bodybuilders--a group known as a notoriously tough sell on the effectiveness of supplements they aren't paid to promote--that got our attention at FLEX. It's not often that a dozen or so pro bodybuilders share the same opinion. Conte and BALCO were on to something.
USE OR LOSE | Conte's relationship with FLEX, Sarcev and other major players in the world of elite bodybuilding mostly begins and ends with his legal over-the-counter supplement business, anchored by ZMA. You didn't see Ronnie Coleman or any other top bodybuilder who's been counseled by Conte in the past being led in a giant business suit to appear before the BALCO grand jury.

THG (tetrahydrogestrinone), the designer steroid that carried the alias of "The Clear," was undetectable by standard drug tests. That's not a concern of bodybuilders. At least not yet. Conte's track athletes--Jones, Alvin Harrison, Chryste Gaines, Kelli White, to name a few--never tested positive for steroids. Only White failed a drug test, and that was for modafinil, a narcolepsy drug.
Over the years, FLEX has openly pondered how mainstream sports stars had achieved unusual muscle gains and nearly implausible performance improvements. In 1998, we carried an article that conjectured about the home run mania in the major leagues, wondering if "the baseball may not be the only thing that's juiced."
That was the year McGwire and Sosa had their famous homer duel. It wasn't prescient, just self-evident. Recently, some in the media have suggested that baseball executives knew steroids had replaced Wheaties in the majors during the mid-to-late '90s, but chose to look the other way as the home run exploits refilled stadiums that were abandoned after baseball's calamitous 1994 strike. It seemed obvious at the time. To us, anyway. Perhaps you have to be inside the world of bodybuilding to comprehend how ubiquitous sports doping is outside of bodybuilding.
As Conte asserts, it's not the doping, it's the hypocrisy. He maintains that Jones' former coach, Trevor Graham, submitted the vial of THG that eventually led to the BALCO charges. At the 2004 Olympics in Athens, Graham finally made a public admission that he was the one who turned in the vial. Conte claims it wasn't to clean up the sport. Instead, it was to screw Graham's competition.
Conte had entered a "use or lose" world. Adrenalized by the action around him, helping the greatest athletes in the world become greater, he shared in the success of gold medalists and other superstars. It became as seductive as the dream of breaking the tape in a big race. If "they're all doing it," then why not have them do it right? Or as Charlie Francis has said, "It's an even playing field. It's just not the playing field people think it is."
The drug issue allows sports media to have it both ways. ESPN can play journalists by day and cheerleaders by night, presenting sobering probes into doping on Outside the Lines, while glamorizing the pumped-up heroics of juice ball on SportsCenter. If baseball executives looked the other way, then so did the sports journalists who covered them.
Now, with the BALCO plea agreements, the media blowhards are steamed, having been deprived of their show trial, the unseemly orgy of names named, careers ruined, something to really chew on. We'll never know the "truth," they protest, the same truth they couldn't have cared less about while Sosa and McGwire were blasting home runs out of parks from coast to coast.
And although a typical sportswriter is shocked or feigns shock over the doping allegations, the drug issue doesn't invite the same hand-wringing from a public that simply shrugs and moves on to the next highlight.

Some in the mainstream media are starting to ask difficult questions: What exactly is cheating? Tiger Woods gets Lasik treatment; another myopic golfer may not be a good candidate for the eye surgery. It's legal, but is it fair? Meanwhile, if a promising sprinter is competing against others on dope, what are his options? Use or lose.
Whatever the facts behind the case, Conte stepped into an athletic arena that not only welcomed him, but embraced him, invited him to meet the relatives, allowed him to summon FLEX writers for exclusive interviews without clearing it with PR reps or sponsors. That's pull. And you don't get that kind of pull for supplying flaxseed oil and vitamin C.
The doping hysteria has only just begun. The story are is still ascending. McGwire and other fallen heroes have yet to run the Sawyer-Dr. Phil-Leno gauntlet of American cleansing. And Conte? No way. He'll lay low in club fed, sit at home for four months with an electronic ankle bracelet and emerge stronger than ever, like Martha Stewart but without the poncho and silly little dogs.
Then this dude's going bigtime. The world's superpower threw its entire prosecutorial might at him, and he ducked and juked like Walter Payton in his prime and hit the end zone. Book contracts. Movie deals. See ya, suckers.
In fact, he's got a new over-the-counter supplement. It's called Aerobitine, a combination of arginine, R-lipoic acid and other goodies. Packs a wallop. In a few months, he'll tell you all about it. He might even buy you a beer.
Jim Schmaltz worked for FLEX from 1994 until 2004. During his last four years at the magazine, he was senior editor. He is currently Editor-in-Chief of Physical.
RELATED ARTICLE
THE PLEA DEAL: "I KNOWINGLY DISTRIBUTED STEROIDS ..."
In the official plea agreement in the BALCO case, obtained by FLEX magazine, Conte cops to one count of conspiracy to distribute anabolic steroids and one count of money laundering. Here's a portion of the agreement from United States of America v. Victor Conte Jr.
"I knowingly distributed steroids and other performance-enhancing drugs to athletes in furtherance of this conspiracy. The drugs I distributed to these athletes included a testosterone/epitestosterone cream, known as "The Cream"; a synthetic undetectable steroid-like derivative, tetrahydrogestrinone, also known as "THG," or "The Clear"; injectable human growth hormone; erythropoietin, or "EPO"; modafinil; clomid (an anti-estrogen medication used to help the body regenerate natural testosterone levels); injectable anabolic steroids; and oral anabolic steroids."
BALCO founder Conte, others plead guilty
By David Kravets, The Associated Press

July 15, 2005
SAN FRANCISCO — BALCO founder Victor Conte pleaded guilty Friday to conspiracy to distribute steroids and money laundering in a deal with federal prosecutors, making it much less likely that top athletes such as Barry Bonds, Jason Giambi and Marion Jones will be forced to testify about alleged drug use.
Victor Conte, founder of the Bay Area Laboratory Co-Operative, was charged with conspiracy to distribute illegal drugs and money laundering. Victor Conte, founder of the Bay Area Laboratory Co-Operative, was charged with conspiracy to distribute illegal drugs and money laundering.
Greg Anderson, Bonds' longtime friend and personal trainer, pleaded guilty to the same charges in exchange for a sentence of up to six months. BALCO vice president James Valente pleaded guilty to one count of distributing illegal steroids and is expected to receive two years' probation.
In exchange, prosecutors agreed to drop dozens of counts against Conte, Anderson and Valente.
A fourth man, track coach Remi Korchemny, delayed accepting any plea agreement.
Conte, who founded the Bay Area Laboratory Co-Operative, was charged with conspiring to distribute performance-enhancing drugs to more than 30 baseball, football and track and field stars. The money laundering charges carried a maximum 20-year term and the conspiracy charge five years.
But authorities said because of sentencing guidelines that consider a wide range of factors, including past criminal conduct and whether a defendant admitted guilt, Conte and the others weren't likely to get more than a year in prison even if they pleaded guilty to all the charges.
Under Conte's deal, if accepted by the judge this fall, he'll spend four months in prison and four months on house arrest.
"I agreed with others to distribute steroids," Conte said in court. "I knew at the time that steroid distribution was an unlawful activity."
U.S. District Judge Susan Illston pointedly asked Anderson: "Did you distribute steroids to athletes?"
"Yes," Anderson replied.
Anderson declined to speak with reporters afterward. And his attorney, Anna Ling, declined to address the question of whether Anderson gave Bonds steroids. Conte, Anderson and Valente sat with each other in the gallery for more than an hour before their cases were called.
Korchemny, his attorney and prosecutors appeared to have reached a deal, but he apparently got cold feet while the judge was handling a lengthy drug case before the BALCO case was called before a packed courtroom here.
Judge Illston will decide whether to accept the pleas at a sentencing hearing Oct. 18.
Conte, Valente and Anderson admitted that they distributed about a half dozen drugs, some known as the "clear," the "cream" and THG. Some were taken orally, others injected or rubbed into the skin.
The case, which began two years ago when authorities learned about a new, undetected designer steroid, opened the public's eyes to performance-enhancing drugs in sports while forcing professional leagues to tighten drug-testing rules.
In an interview with The Associated Press hours after the hearing, U.S. Attorney Kevin Ryan said the prosecution prompted wholesale changes in the sports world regarding performance-enhancing drugs, including changes in testing rules in professional sports and track and field. He also called on Congress to adopt stiffer penalties for steroid pushers.
"Congress needs to give us stronger sentencing guidelines," Ryan said. He added that "Maybe this case is something they can look to as to how the guidelines apply in a major steroid distribution case."
As the prosecution was lingering in court, major league baseball earlier this year toughened its drug-testing policy, mandating suspensions for initial violations. Congress also threatened to implement a federal drug-testing policy for the NFL, NBA, NHL and the major leagues, with a two-year ban for a first offense and a lifetime ban for a second violation.
While the case catapulted steroid use into a front-burner issue from Capitol Hill to baseball clubhouses and from schools to living rooms, the plea agreements prevented several key athletes suspected of steroid use from having to testify in open court.
Some of the biggest names in sports — including baseball stars Bonds and Giambi — have been under a cloud of suspicion based on BALCO grand jury transcripts that were leaked to the San Francisco Chronicle, as well as public accusations against Olympic star Jones by Conte and others.
None of the athletes publicly has admitted steroid use, and pleas by all four defendants would mean they won't have to repeat their secret grand jury testimony in a public courtroom.
The case has deeply impacted the running world. Tim Montgomery, one of the world's fastest men, went before a secret arbitration hearing last month in San Francisco to challenge a potential lifetime ban that the U.S. Anti-Doping Agency recommended for his alleged use of banned substances. No decision has been made, but USADA targeted Montgomery and more than a dozen other runners after reviewing evidence obtained in the BALCO investigation.
One of USADA's latest cases was in May, when runner Michelle Collins declined to contest the agency's imposition of a four-year ban, including forfeiture of her 200-meter world indoor and U.S. indoor titles in 2003.
Conte, Anderson, Valente and Korchemny were charged last year with dozens of counts in connection to federal raids at Burlingame-based BALCO in 2003 and at Anderson's house in Burlingame.
Korchemny's attorney, George Walker, said outside of court that the government has agreed not to imprison his client if he pleads guilty to a single reduced charge of doling out steroids, but Korchemny is having trouble admitting guilt. "There are some areas of concern that my client cannot swear to," Walker said.
Federal agents stated in court records they seized calendars and other documents detailing the use of steroids by professional baseball players during the search of Anderson's home. A federal agent wrote in court papers that, during the raid at BALCO headquarters, "Conte openly acknowledged giving testosterone-based cream, itself a steroid, to numerous professional athletes."
Victor Conte's SNAC ZMA-5 Recovery & Sleep Enhancement
Letter from Victor Conte's Attorney to President George W. Bush
The Honorable George W. Bush
President of the United States of America
The White House
1600 Pennsylvania Avenue, NW
Washington, DC 20530-0001
June 14, 2004
Dear Mr. President,
I am attorney of record for Mr. Victor Conte who is the lead defendant in the BALCO Steroid Case presently pending in the U.S. District Court for the Northern District of California. I write this letter not only on behalf of my best representation of Mr. Conte, but as an appeal to you, the top law enforcement agent in the United States, to aid in a plea negotiation which could ultimately prove extremely beneficial to the national interest.
First, thank you for taking your valuable time to consider this request. We are all well aware that you have pressing international business that is almost beyond imagination. Your efforts to keep our people and democracy safe and strong not only engenders our deepest gratitude but keeps you and all of our leaders foremost in our prayers.
It is precisely because these are such difficult times for our beloved country that we request your aid. We, all of us, need to do everything possible to send a clean Olympic team to Athens. If we fail to do so, and the information about our failure is later made public, after the Olympic medals are given out, the results could be disastrous. A public outcry will be heard around the world that Americans are fraudulent rule breakers and cannot be trusted. There will be hearings and lawsuits and medals taken away. All of our athletes, past, present and future, will feel the sting and all Americans will feel the shame.
My client, Mr. Victor Conte, is a well-known and well-respected sports nutritionist of many years. He is willing to help resolve the problem now, before his information is revealed too late, at a future federal jury trial. For at trial Mr. Conte will definitely testify and he will definitely tell the truth. And the world will definitely be listening.
The United States Attorneys assigned to prosecute this case have been, and I assume always will be, very professional and conscientious. The problem as I see it, is that their hands are tied. They are justifiably doing exactly what they are paid to do, prosecute what they believe are crimes committed within the boundaries of their district. They are not, and maybe cannot, be concerned with the big picture. That broader perspective picture must necessarily come from the top. That is why we need your help.
As is often the situation, the federal sentencing guidelines in this case are somewhat ambiguous. There are many factors involved, such as quantities of alleged substances, numbers of athletes, the existence or non-existence of money laundering etc., which cause any precise guideline calculation at this time to be impossible. The government believes that the maximum term which Mr. Conte is facing if convicted lies somewhere in the neighborhood of two years imprisonment. The experts hired by the Los Angeles Times theorize that the penalty lies between 0 and 6 months. Whatever it turns out to be, in the scheme of the federal sentencing system, the possible maximum penalty for Mr. Conte, or for his employee, Mr. James Valente, isn't much. And it certainly isn't much when compared with the massive good that these gentlemen could do for the logo of the United States of America.
Mr. Conte is willing to reveal everything he knows about officials, coaches and athletes in order to help to clean up the Olympics. He will answer all questions from the United States Department of Justice, the United States Olympic Committee (USOC), and the United States Anti-Doping Agency (USADA.). Further, he will put together a team of experts and truthful witnesses who will aid in this massive job of restoring faith in American athletes and respect for our system of fair competition. In return, Mr. Conte asks that he not be forced to plead guilty to money laundering (a crime which he insists he did not commit) and that he be guaranteed a sentence of straight probation for both he and Mr. Valente. Quite frankly, what Mr. Conte has to offer in terms of real value to this country is worth far in excess of any possible sentence in the pending criminal case. In fact, if Mr. Conte is forced to trial, it well may be that the Court would sentence him to straight probation in any event.
So, Mr. President, justice has many faces. Your agents and legal counsel may well have done the United States a great service in bringing this action, but only if it is used wisely. Everyone in this country has great interest in avoiding the shame of being branded a country of "cheaters." Time is of the essence. We respectfully request your immediate intervention and guidance. All we need is your word, Mr. President. We can work out the details.
Respectfully,
Robert M. Holley
Legal Counsel for Mr. Victor Conte
cc: John Ashcroft
Kevin V. Ryan
Matthew Parrella Jeff Nedrow

Victor Conte's SNAC ZMA-5 Recovery & Sleep Enhancement
Supplement Learning Center
Nutrobolics newest supplement , Hemorush, awesome

Creatine

Nitric Oxide

Protein
Sports & Fitness News Feeds
?°
?°
invalid location provided
What's Your Favorite Supplement?